Signori Toileto Italiano
Daniel Pemberton
23 hours ago
The Silken Ladder
Sinfonia Varsovia & Justus Frantz
23 hours ago
21 Hungarian Dances, WoO 1 (excerpts) [arr. P. Breiner for Orchestra]: Hungarian Dance No. 5 In G Minor
London Philharmonic Orchestra
23 hours ago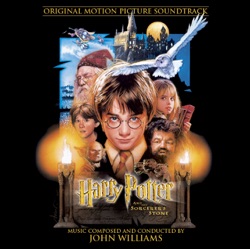 Harry's Wondrous World
John Williams
23 hours ago
Frühlingsstimmen, Walzer, Op. 410
Nikolaus Harnoncourt & Chamber Orchestra of Europe
23 hours ago
Violin Partita No. 3 in E Major, BWV 1006: III. Gavotte en rondeau
Midori
23 hours ago
Cello Concerto in A Major, Wq. 172: I. Allegro
Jean-Guihen Queyras, Akademie für Alte Musik Berlin & Georg Kallweit
23 hours ago
Humoresque, Op. 101 No. 7
Detroit Symphony Orchestra & Antal Doráti
23 hours ago
Messiah, HWV 56: No. 44, Hallelujah!
Toronto Mendelssohn Choir, Sir Andrew Davis & Toronto Symphony Orchestra
23 hours ago
Signori Toileto Italiano
Daniel Pemberton
23 hours ago
Ver más
Classic FM en vivo
The World's Greatest Music
Classic FM is is one of the three Independent National Radio stations of the United Kingdom. It broadcasts classical music in FM, DAB digital radio, Freeview, satellite, cable television and over the internet. Classic FM plays from older music to modern film scores and video game music. It claims to be "UK's only 100 percent classical music station".
Classic FM was aired for the first time on 7 September 1992. The station went from playing producer-selected popular classics to a selector software with a playlist of 50,000 listed tracks. "Zadok the Priest" was the first track broadcasted by the station.
Top presenters:
Tim Lihoreau
John Suchet
Anne-Marie Minhall
John Brunning
Categorias:&nbsp
Classical
Frecuencias Classic FM
Londres: 100.9 FM
Programación
| Tiiempo | Programa |
| --- | --- |
| 00:00 - 01:00 | Smooth Classics - With Myleene Klass |
| 01:00 - 06:00 | Bob Jones |
| 06:00 - 09:00 | Classic FM's More Music Breakfast - With Tim Lihoreau |
| 09:00 - 13:00 | John Suchet |
| 13:00 - 17:00 | Christmas Eve Requests - With Anne-Marie Minhall and John Brunning |
| 17:00 - 17:30 | Aled Jones narrates The Snowman |
| 17:30 - 19:00 | Children & The Arts' Christmas Carol Concert - With Jane Jones |
| 19:00 - 22:00 | The Story of Carols - With Anne-Marie Minhall |
| 22:00 - 01:00 | Smooth Classics - With Karthi Gnanasegaram |
| Tiiempo | Programa |
| --- | --- |
| 01:00 - 06:00 | Bob Jones |
| 06:00 - 09:00 | Classic FM's More Music Breakfast - With Tim Lihoreau |
| 09:00 - 13:00 | John Suchet |
| 13:00 - 17:00 | Anne-Marie Minhall |
| 17:00 - 19:00 | Classic FM Drive - With John Brunning |
| 19:00 - 20:00 | Smooth Classics at Seven - With John Brunning |
| 20:00 - 22:00 | The Full Works Concert - With Jane Jones |
| 22:00 - 01:00 | Smooth Classics - With Margherita Taylor |
| Tiiempo | Programa |
| --- | --- |
| 01:00 - 06:00 | Sam Pittis |
| 06:00 - 09:00 | Classic FM's More Music Breakfast - With Tim Lihoreau |
| 09:00 - 13:00 | John Suchet |
| 13:00 - 17:00 | Anne-Marie Minhall |
| 17:00 - 17:30 | Aled Jones narrates The Snowman |
| 17:00 - 19:00 | Classic FM Drive - With John Brunning |
| 19:00 - 22:00 | The Story of Carols - With Anne-Marie Minhall |
| 19:00 - 20:00 | Smooth Classics at Seven - With John Brunning |
| 20:00 - 22:00 | The Full Works Concert - With Jane Jones |
| 22:00 - 01:00 | Smooth Classics - With Margherita Taylor |
| Tiiempo | Programa |
| --- | --- |
| 01:00 - 06:00 | Sam Pittis |
| 06:00 - 09:00 | Classic FM's More Music Breakfast - With Tim Lihoreau |
| 09:00 - 13:00 | John Suchet |
| 13:00 - 17:00 | Anne-Marie Minhall |
| 17:00 - 17:30 | Aled Jones narrates The Snowman |
| 17:00 - 19:00 | Classic FM Drive - With John Brunning |
| 19:00 - 22:00 | The Story of Carols - With Anne-Marie Minhall |
| 19:00 - 20:00 | Smooth Classics at Seven - With John Brunning |
| 20:00 - 22:00 | The Full Works Concert - With Catherine Bott |
| 22:00 - 01:00 | Smooth Classics - With Margherita Taylor |
| Tiiempo | Programa |
| --- | --- |
| 01:00 - 06:00 | Jane Jones |
| 06:00 - 09:00 | Classic FM's More Music Breakfast - With Tim Lihoreau |
| 09:00 - 13:00 | John Suchet |
| 13:00 - 17:00 | Anne-Marie Minhall |
| 17:00 - 19:00 | Classic FM Drive - With John Brunning |
| 19:00 - 20:00 | Smooth Classics at Seven - With John Brunning |
| 20:00 - 22:00 | The Full Works Concert - With Catherine Bott |
| 22:00 - 01:00 | Smooth Classics - With Margherita Taylor |
| 22:00 - 01:00 | Smooth Classics - With Karthi Gnanasegaram |
| Tiiempo | Programa |
| --- | --- |
| 01:00 - 04:00 | Katie Breathwick |
| 04:00 - 07:00 | Bob Jones |
| 07:00 - 10:00 | Alan Titchmarsh |
| 10:00 - 13:00 | Bill Turnbull |
| 13:00 - 15:00 | Alexander Armstrong |
| 15:00 - 17:00 | Nicholas Owen |
| 17:00 - 19:00 | Saturday Night at the Movies |
| 19:00 - 21:00 | Cowan's Classicsc - With Rob Cowan |
| 21:00 - 22:00 | David Mellor's Light Music Masters |
| 22:00 - 01:00 | Smooth Classics - With Myleene Klass |
| Tiiempo | Programa |
| --- | --- |
| 01:00 - 04:00 | Katie Breathwick |
| 04:00 - 07:00 | Bob Jones |
| 07:00 - 10:00 | Aled Jones |
| 10:00 - 13:00 | Bill Turnbull |
| 13:00 - 15:00 | Alexander Armstrong |
| 15:00 - 17:00 | Charlotte Hawkins |
| 17:00 - 19:00 | The Classic FM Chart |
| 19:00 - 21:00 | David Mellor |
| 21:00 - 22:00 | Everything You Ever Wanted to Know about Classical Music |
| 22:00 - 01:00 | Smooth Classics - With Myleene Klass |
Lista de las canciones más escuchadas
Últimos 7 días:
1. Daniel Pemberton - Signori Toileto Italiano
2. Pilot - Magic
3. Berliner Philharmoniker & Claudio Abbado - William Tell: Overture
4. Scottish Chamber Orchestra & Jaime Laredo - Le nozze di Figaro, K. 492: Overture
5. Krystian Zimerman, Sir Simon Rattle & Berliner Philharmoniker - Piano Concerto No. 5 in E-Flat Major, Op. 73 "Emperor": III. Rondo. Allegro
6. Dick Walter - Aloha
7. John Wilson, The John Wilson Orchestra, Sierra Boggess & Julian Ovenden - Salut d' amour
8. Ray Chen, Christoph Eschenbach & Schleswig-Holstein Music Festival Orchestra - Suite bergamasque, L. 75: III. Clair de lune (Arr. Koncz)
9. Orchestra Sinfonica di Milano Giuseppe Verdi & Riccardo Chailly - La forza del destino: Preludio
10. Redbone - Come and Get Your Love
Últimos 30 días:
1. Daniel Pemberton - Signori Toileto Italiano
2. Tammi Terrell - Ain't Nothing Like the Real Thing
3. Dick Walter - Aloha
4. Pilot - Magic
5. Berliner Philharmoniker & Claudio Abbado - William Tell: Overture
6. Andy Williams - Happy Heart
7. Scottish Chamber Orchestra & Jaime Laredo - Le nozze di Figaro, K. 492: Overture
8. John Wilson, The John Wilson Orchestra, Sierra Boggess & Julian Ovenden - Salut d' amour
9. Krystian Zimerman, Sir Simon Rattle & Berliner Philharmoniker - Piano Concerto No. 5 in E-Flat Major, Op. 73 "Emperor": III. Rondo. Allegro
10. Redbone - Come and Get Your Love
Podcasts relacionados
Contactos
Dirección:&nbsp
30 Leicester Square, London, WC2H 7LA
Teléfono:&nbsp
03457 491812
E-mail:&nbsp
Customer.Support@Global.com
Redes sociales
Compartir
Comentarios